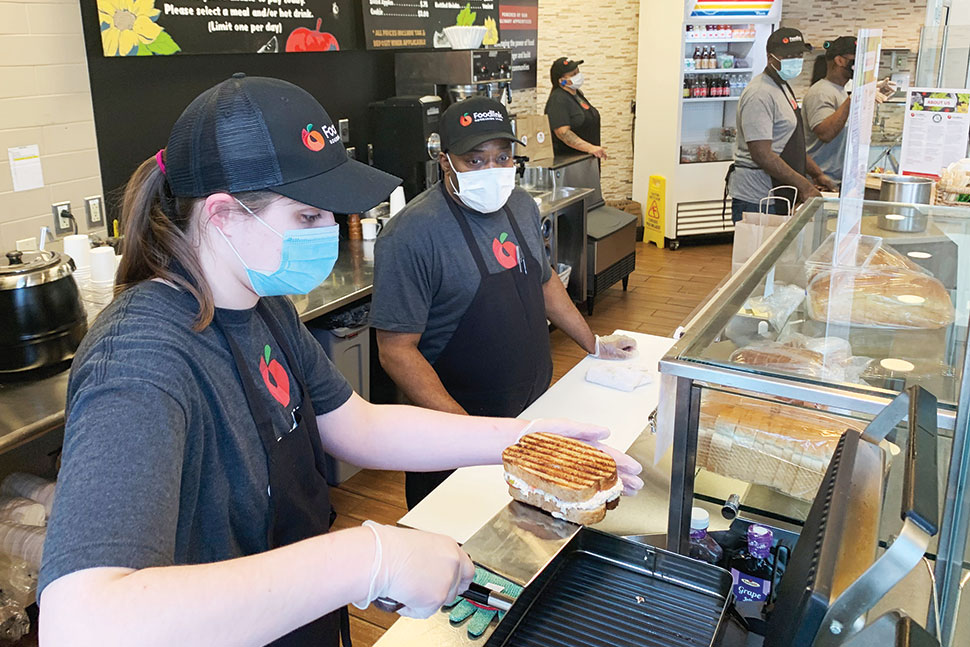 After the last of a revolving door of businesses left the existing café space in the Central Library of Rochester (N.Y.) Public Library (RPL), staffers considered how the retail space could be used to serve the community more than just coffee.
"We talked about how we could make things better in our neighborhood," says Patricia Uttaro, director of RPL and Monroe County Library System. "We have been doing a lot of work with our library on social justice and conversations on race. We wanted to find a solution there."
RPL collaborated with Foodlink, a local nonprofit food bank that addresses community hunger and provides training and experience in the culinary arts for people who have faced barriers to employment, including those with histories of substance abuse, formerly incarcerated individuals, and immigrants and refugees. Foodlink Community Café opened in RPL's Central Library in May after COVID-19 lockdowns postponed plans to open in spring 2020. At the café, the menu of soup, sandwiches, salads, sides, and cookies changes each week, with a focus on homemade, nutritious fare. The library waives the rent for the café, which runs on a pay-what-you-can model: Patrons can pay nothing, a suggested price, or extra to cover others' costs and to support Foodlink's mission.
"It seemed like the right thing to do," Uttaro says. "We'd gone several years with no income from rent and had absorbed it into our budget."
"This program and the café are nonjudgmental," says Olvin Cortez, who has been working with Foodlink in Rochester for two years and hopes to one day open his own restaurant. "If you come from a hard place, they're here to help."
RPL is one of several libraries around the country that are using café space on their campuses to house mission-driven food and beverage service to library patrons and community members.
Creating community stars
At Gadsden (Ala.) Public Library (GPL), teens with disabilities have been preparing and serving scratch-made vegetarian meals at the Beautiful Rainbow Café since 2017. The collaboration between GPL and Gadsden City High School began after a café and bookstore vacated their space in GPL's former genealogy wing. At the time, special education teacher Chip Rowan was already running a gardening and culinary program for students with disabilities—first through the city's middle school, then through the high school—and inviting community leaders to sample their creations. He hoped to eventually open a full-service restaurant.
"Our [program's] mission is education—isn't that a library's mission as well?" Rowan says. "It seemed like a no-brainer."
The program pays the city $1 annually for rent; the school system pays Rowan's salary; and grants cover student wages, food service equipment, and gardening supplies. Sales sustain the food operation and generate extra funds that get reinvested into the café. Much of the produce used in the seasonal fare is harvested from a garden across from GPL. The garden is also tended by Rowan's students, who participate in a cooperative education program that allows them to use part of the school day for paid, on-the-job training.
"When the bus arrives in the morning and drops the kids off, they are all smiles," says GPL Director Craig Scott. "It's not drudgery. They are eager to work."
The program is geared toward students with disabilities ages 16–21 who are in need of community-based employment. "We try to focus on the lower-functioning students," says Rowan. Many students go on to get jobs at area businesses. "I've seen students go from being very withdrawn to being stars in the community."
Building a thriving city
Marianne's, a café in development in the D.C. Public Library (DCPL) system, will provide workforce training while enticing patrons with grab-and-go food in a bustling locale. Last year DCPL concluded a large-scale renovation of its Martin Luther King (MLK) Jr. Memorial branch—a 1972 Ludwig Mies van der Rohe building that was in dire need of modernization—including a counter built for the café.
"MLK is very well positioned—it's right in the middle of the city. It's central to all Metro lines, there are a ton of bus lines right there," says Linnea Hegarty, director of events, exhibits, and development at DCPL. "We knew a café would be a place to attract patrons to stay at the library longer."
After an open procurement process, DCPL chose the established antihunger and antipoverty nonprofit D.C. Central Kitchen to run the café. Fellowships to work at Marianne's are awarded to applicants who have an interest in the culinary arts and face barriers to employment, such as a history of homelessness, incarceration, or trauma. They will receive paid, hands-on culinary and job-readiness training and support to launch their careers in the food service industry.
"Revenue was not our driving decision-making factor," Hegarty says. "We structured the contract in a way that advantages both partners if the café is successful, but it doesn't put an onus on D.C. Central Kitchen."
She says rent is offered to their nonprofit partners below market rate, and café revenue should cover the cost of operations. Pandemic precautions delayed the launch of the café, which will operate in a high-traffic area of the library where bestsellers, holds, and ample seating are located.
"Workforce development is an important part of library service, and a café is a very tangible representation of that work," Hegarty says. "The café is one piece of what we hope will be a much broader scope. Seeing that partnership intentionally begin with this café was important to us."
The collaboration with DCPL could eventually include a rooftop garden and food literacy programming, but in the meantime the program will connect workers with classes, technology, and other library offerings.
"We are expanding opportunities for the residents of D.C. by giving them job training and skills and a place of employment at the library," Hegarty says. "They also can take advantage of their job at the library to learn and explore more of the library's resources. And this in turn helps to build a thriving city with more opportunities for all."