Since the onset of the coronavirus pandemic, libraries have served both informally and officially as public health partners, from 3D-printing personal protective equipment to serving as vaccination sites. Now, as the country continues to ease masking and social-distancing restrictions, libraries are again stepping into the role as a point of care—this time by helping to distribute rapid, at-home COVID-19 testing kits.
In Delaware, the Division of Public Health (DPH) approached the Delaware Division of Libraries (DDL) with a plan to distribute more than 75,000 BinaxNOW antigen self-tests through the state's public libraries for three months from summer to fall 2021. "I think it's a slam dunk that [health departments] would think of libraries," says Alta Porterfield, statewide social innovator at DDL.
The initiative—which ran at 32 of Delaware's 33 public libraries—was "a very easy transition" for library workers, says Porterfield, since they already have experience in public-facing roles and materials distribution.
Further west, the Ohio Department of Health (ODH) launched its testing kit distribution program—using a proctored version of Abbott's BinaxNOW tests, which requires a smartphone app and telehealth appointment—in March 2021 and considered libraries an important asset from the outset. The program has ebbed and flowed with the pandemic; of the 1.6 million testing kits ODH distributed last September (at the peak of the state's Delta variant spike), around 700,000 went to Ohio's public libraries.
"We're an opportunity for people to find resources," says Michelle Francis, executive director of Ohio Library Council (OLC) and point-person for the ongoing ODH partnership. "We're not the local health department, and we're not the schools," she says, noting that libraries were never meant to be the primary test kit distributor. "This is about being a distribution point for a resource that otherwise might not be accessible to certain individuals within our community."
'Part of daily service now'
An overwhelming demand and limited supply of the BinaxNOW tests caused long lines and frequent phone calls at many of Delaware's libraries. At Lewes (Del.) Public Library (LPL), Director Lea Rosell says the phone rang constantly—hundreds of calls per day—but the influx of visitors was no more substantial than their pre-COVID-19 norm. "It didn't feel like that much of a burden or that resources were scarce," she says.
LPL made its testing kits available for pickup at the circulation desk and instituted a limit of two boxes per person, with each box containing two tests. Visitors did not need to show an ID or library card, nor did staffers record names when patrons came in to pick up kits. "Libraries very much value patron privacy, and [collecting names] would have been a logistical and ethical nightmare," says Rosell. To track distribution, LPL noted how many kits they had at the start and end of each day. During the three-month period, library workers distributed a total of 5,280 tests.
We're encouraging and supporting the pursuit of knowledge, and part of that knowledge is, Am I healthy? —Joel Mantey, adult services manager at Findlay–Hancock County (Ohio) Public Library
According to OLC, more than 160 library systems are involved with the voluntary partnership in Ohio, including the Findlay–Hancock County Public Library (FHCPL). Joel Mantey, adult services manager, says the tests were sorely needed in their area: "It's been a boon for the community."
FHCPL, which had distributed more than 17,000 testing kits by November, orders kits through ODH to resupply whenever stock is low. The kits are available at the reference desk and—like at LPL—visitors are not asked to provide identifying information or a library card. The program has been popular among patrons, but Mantey does not characterize it as overwhelming. "It's just become part of daily service now," he says.
Mantey and Holly Walter, circulation services manager, say the program aligns closely with the mission of FHCPL. "We're encouraging and supporting the pursuit of knowledge, and part of that knowledge is, Am I healthy?" says Mantey. "We can help give people that security of knowledge."
While ODH provides libraries with instructional fliers to distribute alongside testing kits, Mantey says staffers have helped patrons navigate the technological challenges that accompany the proctored BinaxNOW test kits, such as downloading the required app and creating an account. Since FHCPL does not have internet-enabled devices or Wi-Fi hotspots available for loan, patrons who did not have a smartphone or comparable device were provided with a list of local pharmacies that offered testing services. To address these hurdles to access, ODH began switching to unproctored test kits in November, but proctored options will continue to comprise around 5% of a library system's allocation.
Both FHCPL and LPL say their partnerships have allowed them to build new fundraising relationships, distribute promotional materials, and get library cards into community hands. "These are new relationships and new opportunities that we probably otherwise wouldn't have had," says Francis of OLC.
Keeping staffers safe
Delaware's libraries had worked on state health initiatives before, but this time around State Librarian and DDL Director Annie Norman wanted to make sure library workers felt appreciated in their collaboration.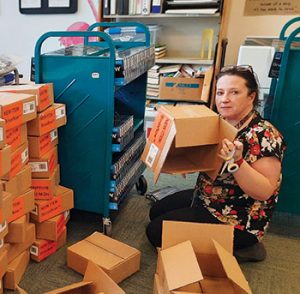 "Libraries have such fatigue," she says. "They don't feel like they're compensated in any way by their partners." To counter this, Norman asked DPH for financial reimbursement for libraries agreeing to serve as testing kit distributors. The department decided to use American Rescue Plan Act funds to provide each library with $10,000 to use at their discretion in exchange for their participation.
All but one public library in Delaware chose to participate in the partnership. In response to the nonparticipating library's concern over safety, Norman says DDL added language to its advertising materials explicitly stating that patrons experiencing COVID-19 symptoms should not go to libraries for tests.
While the ODH program does not specifically tell visitors to avoid libraries if they are experiencing COVID-19 symptoms, some libraries, including FHCPL, offer a curbside pick-up option for kits. According to Walter, this allows staffers to keep a safe distance from patrons who may be sick.
No one on LPL's staff tested positive for COVID-19 during the partnership, though Rosell suspects that sick patrons have likely walked through their doors. In addition to requesting that visitors wear masks, LPL relied on sneezeguards, social distancing, and biweekly staff meetings to ensure all involved felt safe. She also says some of the $10,000 the library has received from DPH has gone toward safety modifications and equipment, such as converting the building's water fountain to a bottle-filling station and providing free masks for patrons.
Ultimately, it was the community benefits—not the money—that drew Rosell to get involved: "The whole idea of access really rings as something that is very apparent in this partnership."