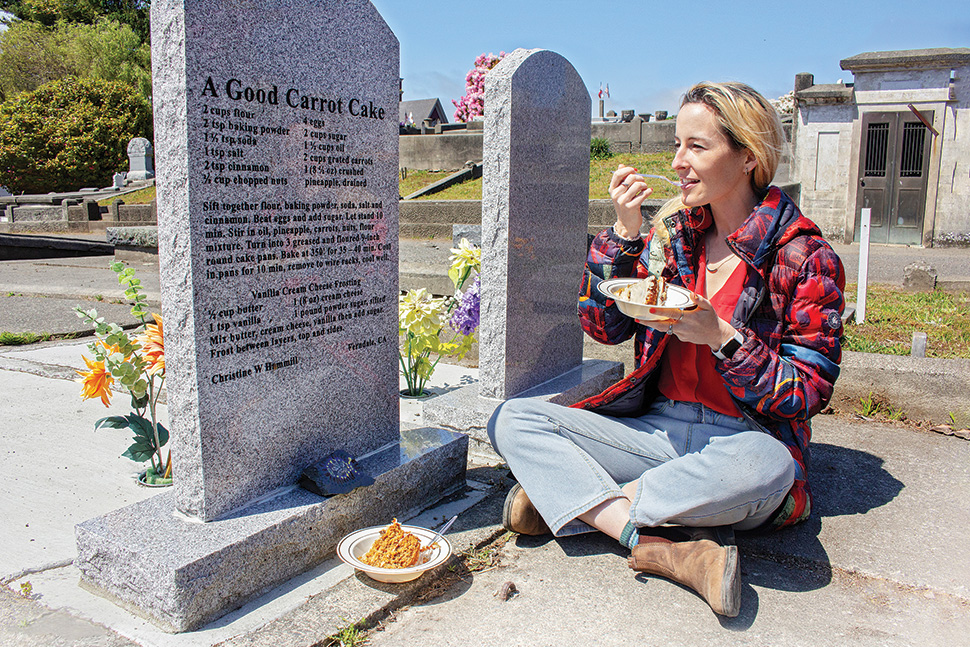 Whether it's snickerdoodles, peach cobbler, or cheese dip, many home cooks want to be remembered for their signature dish. Some have even gone as far as incorporating those foods into their final resting place.
"Food connects us to someone we miss," says Rosie Grant, digital librarian for American Jewish University in Los Angeles and outreach and communications manager at UCLA. "It connects all of our senses to that person or memory."
Grant, who is known as @ghostlyarchive on TikTok, went viral last year for trying recipes etched on gravestones and documenting her culinary process. She started the account in 2021 while taking a social media course toward her MLIS, inspired by her then-internship at the Congressional Cemetery in Washington, D.C. After the class ended, she read about a gravestone recipe in an Atlas Obscura article, which prompted her to create her first video on the subject.
In January 2022, Grant posted a video of herself making spritz cookies from the Brooklyn, New York, headstone of Naomi Odessa Miller-Dawson. "I made them very wrong," she recalls with a laugh, noting that she didn't know to use a cookie press. She has since tried about 20 gravestone recipes—most of them sweets found through online research and with followers' help. Her account has amassed more than 195,000 followers and 7.9 million likes.
Grant says her goal is to keep visiting gravesites associated with the recipes she tries and connecting with recipe-writers' families in person and online. Expanding her niche, she has also begun researching traditional funeral foods, like potato hot dish and sheet cake.
Discussing death can be scary, Grant acknowledges, but it's often easier when food is in the mix. She says: "I feel like I've barely even scratched the surface of this connection."