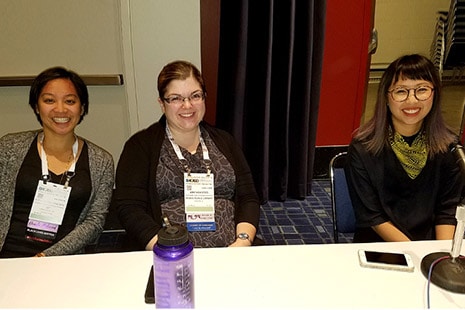 The four panelists in a Saturday morning session sponsored by the Ethnic and Multicultural Information Exchange Round Table offered some examples of how librarians can integrate social justice themes into library programs and exhibits.
Annie Pho, inquiry and instruction librarian for peer services and public programs at University of California, Los Angeles, said the session's name was adapted from a book by activist Howard Zinn, whose point was that, like a train, events are moving in a certain direction and you have to decide whether to stay on or jump off. "Libraries are not neutral spaces," she said. "Often I feel helpless with the barrage of current events and I have to remind myself that as a librarian I do have the skills and the space in the library to create stories about those groups who are underrepresented and marginalized."
Amy Koester, youth and family program supervisor at Skokie (Ill.) Public Library, agreed that this summed up the concept of "critical librarianship," which is defined on critlib.org as "library workers dedicated to bringing social justice principles into our work in libraries." In Skokie, Koester said, "we have a broad spectrum of diversity," where 40% of the residents are foreign-born and residents collectively speak at least 90 languages. "We began hearing conversations among our patrons about Black Lives Matter and SayHerName, and we realized we needed a program where they could talk about the news, share ideas, and learn more about events."
In 2016, Koester and her colleagues set up The Civic Lab, a safe and welcoming space for civic education, where patrons can find resources specifically on Black Lives Matter, climate change, immigration, LGBTQ issues, income inequality, and reproductive justice. "At first it was a small space in one corner with topical microcollections and conversation prompts on Post-It Notes," Koester said, "but now it is a pop-up library that can be moved around the building. It has flexible furniture and equipment, focuses on new topics in the news twice a month, and operates with at least two staff members available for questions and conversations. As one of our participants told us, 'You need to have good information in order to make up your own mind. If you have bad information, someone else is making up your mind for you.'"
Miriam Neptune, digital scholarship librarian at Smith College in Northampton, Massachusetts, described another pop-up program she worked on in 2016 called the Black Unicorn Project, a week-long installation that celebrated the lives and experiences of people of color through literature, scholarly work, art, and media. Neptune said she was aided by many students, "who are great partners, not just consumers of information, when they are seen, supported, and heard."
Another Smith program called "Undesign the Redline" took place the same year. It was both an exhibit and a series of talks on the practice of redlining in the 1930s, in which the federal Home Owners' Loan Corporation color-coded city neighborhoods across the US to indicate levels of worthiness for financial investment. Neptune said that visitors noticed that current food deserts often corresponded to the high-risk areas that were redlined in 1939. "Libraries have the power," she said, "to create interdisciplinary, intergenerational spaces so that people can deconstruct the problems they face in their lives."
Sofia Leung, teaching and learning manager at Massachusetts Institute of Technology, described a program she implemented at the University of Kansas in 2015, "Ideate Lawrence, 2015: Water," which brought together different groups on campus to identify solutions to local or regional water issues, a subject that is often complex and misunderstood. Leung said she was surprised by the amount of support she received from university stakeholder groups, students, and the city of Lawrence.
Pho described a number of projects she was associated with at UCLA, particularly "American Concentration Camps" in 2017, which brought together photos and documents on the forced relocation of Japanese Americans during World War II. She said the exhibit was set up in response to talk about creating Muslim internment camps after the 2016 election, and "we decided we needed to resurrect this forgotten piece of American history."
Koester added that critical librarianship is not about allowing for a balance of viewpoints. "The library does not have the responsibility to present all sides of a question. If you want more, visit the library collections. For a library, public events are never the end of the conversation."