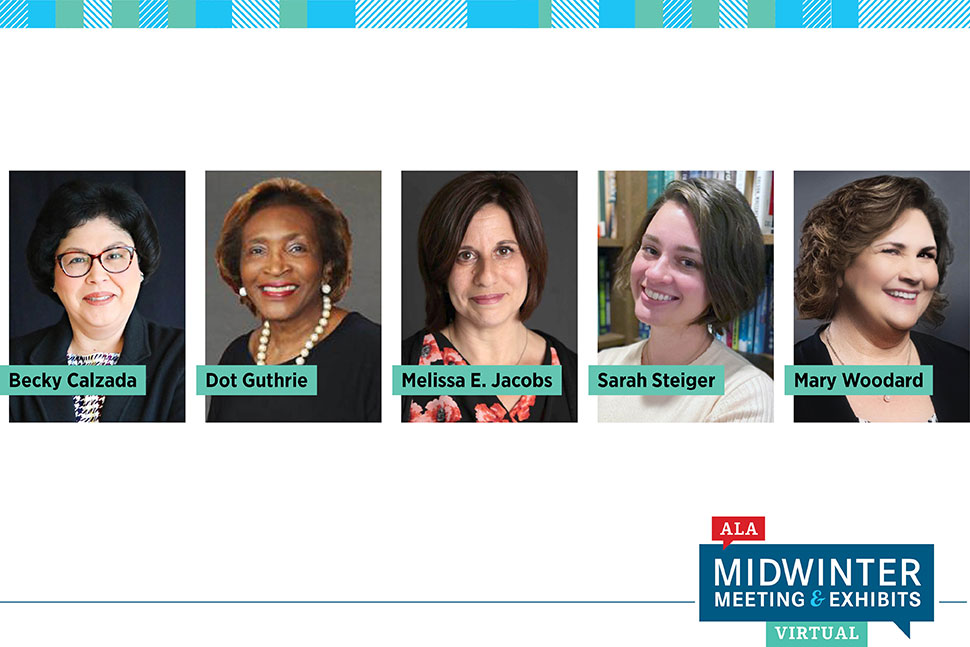 The COVID-19 pandemic has presented a unique set of challenges for school librarians, from helping teachers coordinate virtual learning to bridging the digital divide to ensure all students have access to materials needed to learn and excel. Five librarians gathered to discuss those concerns and celebrate successes at "School Librarians as Leaders of Change," an on-demand program held during ALA's Midwinter Meeting & Exhibits Virtual.
Moderator Becky Calzada, library services coordinator at Leander (Tex.) Independent School District (ISD), was joined by Mary Woodard, director of library services at Mesquite (Tex.) ISD; Melissa E. Jacobs, director of New York City Schools' Library System and the New York Department of Education's Department of Library Services; Dot Guthrie, a retired librarian who sits on the board of education for Gaston County (S.C.) Schools; and Sarah Steiger, library and digital media manager for Chicago Public Schools (CPS).
Pivoting to remote learning at the onset of pandemic lockdowns presented multiple challenges.
"The first few weeks really elevated and highlighted the digital inequities that exist across the board," Jacobs said. A major concern involved lack of awareness of what materials were available online for remote learning, Jacobs said.
"Many of our teachers assumed everything was online," Jacobs said. When they discovered that some needed materials weren't immediately available due to copyright issues, librarians had to step in to educate them on what could and couldn't be used, and how to navigate copyright to find what they need.
Steiger said CPS faced similar access issues. Many schools didn't have licenses for ebooks at the beginning of the pandemic, she said, leading CPS to invest in virtual site licenses for all 655 CPS locations. They also made sure that the new virtual collections were representative and culturally responsible, she said.
Onsite safety is a concern for librarians working in schools that have opened or are engaging in a hybrid at-home/remote learning model. Mesquite ISD, which currently follows a hybrid model, turned to the REALM study and best practices from other schools for guidance, Woodward said.
The pandemic has also provided some of the libraries with opportunities for innovation.
Jacobs touted a collection of ebooks devoted to COVID-19 topics that New York City Schools' Library System curated. The collection provides free resources and tools that families, in particular economically disadvantaged families, can use to talk to their kids about the pandemic.
"We wanted to focus on social-emotional wellness," she said. ""It has really taken off and gotten worldwide attention."
The panelists agreed that librarians have the perfect skillset for adapting to the pandemic.
"When I think of Chicago librarians, I think they're the most adaptive educators that I see in the education system and landscape," Steiger said. She praised CPS librarians for going above and beyond the call of duty, recounting how they recorded and webcast read-alongs twice a day for all CPS students to watch.
"We do whatever the school needs to help it run," Woodard said. "Our job is not just 'books and reading;' it's providing the support for our community. If we're doing that, we're doing library things."
Guthrie elaborated, "We no longer just check out books. We are the connection between the community, educators, and each other."