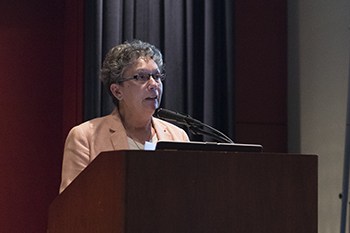 Kalamazoo County Juvenile Home is a 64-bed residential treatment facility for youth aged 11–17, both male and female, with day treatment for an additional 72 kids. The average length of stay is two weeks, but kids can stay up to 18 months.
In Monday's session "Librarians Go to Juvie," Susan Warner, head of youth services at Kalamazoo Public Library (KPL), explained that 85% of juveniles involved with the court system are functionally low-literate, and involvement with the court system dramatically increases the high school dropout rate. In addition, 70% of all incarcerated adults cannot read at a 4th-grade level. These statistics are why KPL decided to put a heavy emphasis on reading programs at "the juvie."
A member of the Kalamazoo Lawyers Auxiliary came up with an idea for bedtime reading for juvenile offenders in 1993, and KPL took over the program, now called The Late Show, a few years later. The program is directed by Marge Kars, a retired medical librarian.
The Late Show's purpose is to bring comfort and calm to the students by reading aloud to them at bedtime and introducing them to good literature. Each Tuesday and Wednesday night, a volunteer reads a short story over the PA system for 30 to 40 minutes. Students can request that the speakers in their rooms are turned off, but few do.
The program has been so successful that KPL has branched out into bringing visiting authors to the facility to read their own works. Jill Lansky, KPL's youth outreach coordinator, said the library treats visits to the juvie like any other school visit with an author.
Visiting authors—including Chris Crutcher, Jacqueline Woodson, John Green, and Jason Reynolds—do readings, talk and eat pizza with the kids, and sign copies of their books that the students get to keep when they leave the facility. For some students, these are the first books they've ever owned. Several authors have been more than once, and some have done Late Show readings of their work.
Chicago-based author Kevin Coval led a poetry workshop with the students, and officials said they learned more about the students from a seven-minute writing exercise than they had during the rest of their time at the facility, Warner said.
Kars also manages the Diversions Book Club at the juvie. When youth come to the home, they're often reading at the 3rd-grade level, so the librarians wanted to create a way for them to get books, read them, and discuss plots and characters. The club has some ground rules: No one can criticize a reader or laugh at mistakes, and members are encouraged but not required to read aloud. Also, boys and girls are in separate clubs. "They're adolescents. The focus is not on the book," Kars noted.
"One thing we learned is that the weekly visit is as important as the book. Consistency is important to them," she continued. "If I don't show up one week because I was out of town, they want to know where I was and why I didn't come."
Warner believes the programs are replicable in other communities.