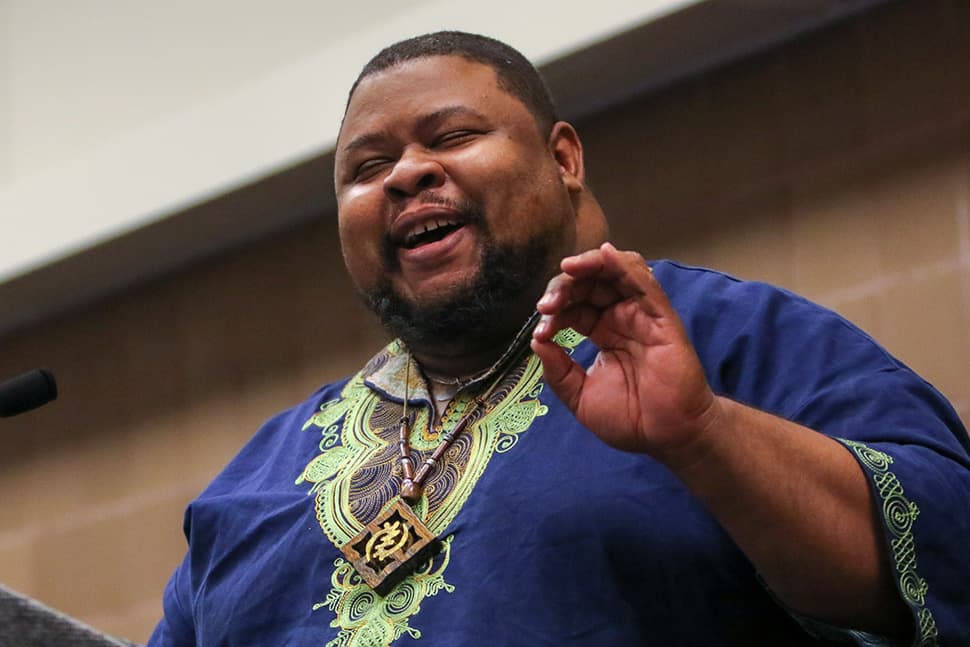 Author and culinary historian Michael W. Twitty spoke to a packed audience at the Association for Library Collections and Technical Services (ALCTS) President's Program "Dining from a Haunted Plate" on June 25 at the 2018 ALA Conference in New Orleans.
Although sharing that his favorite Southern foods include barbecue, buttermilk pie, gumbo, and jambalaya, The Cooking Gene author Michael W. Twitty said he never intended to write a cookbook; instead, he wanted to research and document the journeys of his ancestors in the American South through the evidence of their foods and cooking methods.
"I think we're more complicated than than that," said Twitty, explaining that a cookbook would be an insufficient approach to examining the culinary contributions of enslaved people in the 18th- and 19th-century American South. Describing himself as a "black agent of change," Twitty said he focused on food history instead. And although The Cooking Gene does contain some recipes, he suggested with great humor that those who are mainly interested in recipes should "go on the internets."
Twitty said that when he was in his late 30s, he really didn't know how to place himself in the flow of Southern history and was greatly bothered by that. "I figured if you're going to be a cultural historian, culinary historian, you must have a sense of where you fit in the flow of history."
Accordingly, The Cooking Gene is "about the journey of my family as much as about their individual lives," he said. "I carry those people with me." He included the names of many of his ancestors in his book. "Our ancestors were denied their names and their dignity. I can't tell you where they were buried."
Twitty also talked about his experience of dealing with book publishers who wanted to fit him into a neat marketable product line. "I was told by certain publishers, 'America's not ready for you. Don't wear your kippah in public. Don't be Jewish or gay. Just be in your black bubble. We need a black author.'" This was unacceptable to Twitty, who refused to be defined by one identity only and hide the others.
During the Q and A, Twitty revealed that The Cooking Gene will be part of a trilogy of similar books that address his multiple identities and cultures. Up next is Kosher Soul, which will be followed by a book about LGBT food and culture. The idea of a trilogy arose for Twitty when he was told he "didn't exist." These books are his response.