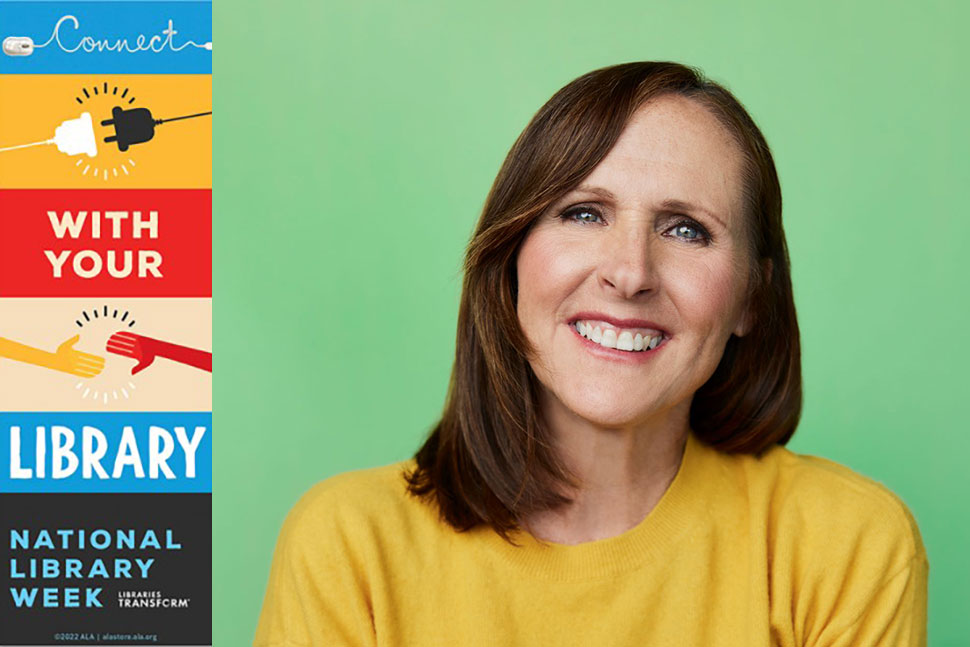 On January 20, the American Library Association (ALA) announced that actor, comedian, and former Saturday Night Live cast member Molly Shannon will be honorary chair of National Library Week (April 3–9, 2022). An excerpt of the announcement follows:
Molly Shannon, multiple Emmy-nominated and Spirit Award–winning actress and comedian will help celebrate our nation's libraries as the honorary chair of National Library Week. Shannon will highlight the ways libraries serve to connect communities to books, resources, programs, and each other.
Shannon said she is "honored" to serve as honorary chair. "My mom was a librarian. She encouraged kids to read. So the work of librarians and libraries has such a special place in my heart," Shannon said. "Libraries are places where communities connect—to things like broadband, computers, programs and classes, books, movies, videogames, and more. But most importantly, libraries connect us to each other. Supporting National Library Week in this role allows me to connect to my mother's memory and all the librarians out there. Thank you for everything you do."
The theme for National Library Week 2022, "Connect with Your Library," promotes the idea that libraries are places to get connected to technology by using broadband, computers, and other resources. Libraries also offer opportunities to connect with media, programs, ideas, and classes—in addition to books. Most importantly, libraries also connect communities to each other. The theme is an explicit call to action—an invitation for communities to join, visit, or advocate for their local libraries.
"We are just delighted to have Molly Shannon serve as honorary chair of National Library Week 2022," said ALA President Patricia "Patty" M. Wong. "Molly has made us laugh for so many years, and she exemplifies the creative spirit and spark that libraries and librarians nurture when they connect readers to new books and ideas. Molly is a national treasure, as are our libraries. We're so glad to have her on board."
Shannon will release her memoir, Hello, Molly!, in April 2022. The book spans her time on Saturday Night Live, where she starred alongside Jimmy Fallon, Will Ferrell, Tracy Morgan, Cheri Oteri, Adam Sandler, and others. The memoir also explores her struggle to come to terms with the legacy of her father, who fostered her gifts and drive but who raised his kids alone after the loss of their mother.
In addition to six seasons on Saturday Night Live, Shannon has appeared on TV shows like Will & Grace, Enlightened, and Divorce, and has starred in films like Superstar, Other People, and Never Been Kissed. She currently appears in HBO Max's The Other Two and The White Lotus. 
Free digital graphics that promote National Library Week are available at ala.org/nlw, and promotional items are available for purchase through the ALA Store and ALA Graphics Gift Shop.
First sponsored in 1958, National Library Week is an annual observance by ALA and libraries across the country each April. National Library Week celebrations include:
For more information about National Library Week, visit ala.org/nlw.