In a wide-ranging panel discussion on Saturday, members of ALA's Washington Office and special guests provided a recap of 2015's successes and a look ahead to important issues facing librarians in this election year.
Washington Office Executive Director Emily Sheketoff started by noting "how important your voice is in the successes ALA achieves," specifically citing the passage of the Every Student Succeeds Act in December. Sheketoff said lawmakers were able to get library-friendly requirements into the bill because ALA members made the effort to call and write to their representatives.
OITP: Wi-Fi and E-Rate
Larra Clark, deputy director of the Washington Office's Office for Information Technology Policy (OITP), asked for a show of hands from people who had logged into the conference center's Wi-Fi or were tracking their steps with a FitBit—most hands in the room went up.
"Everyone loves Wi-Fi. We use it for everything, in our homes, libraries, schools, work, and in public spaces. One of the main reasons it's so widespread and powerful is that it uses airwaves that are open to everyone," she noted.
Wi-Fi is also important for underserved populations, who are more likely to use Wi-Fi in public places—such as libraries—to connect to the internet than other groups.
ALA is tracking certain threats to public Wi-Fi access, such as LTE-U, which can potentially knock Wi-Fi devices off the spectrum; the lack of new spectrum being designated as unlicensed; and some policymakers' unwillingness to see how important unlicensed spectrum is to consumers.
ALA is member of the WifiForward coalition. The coalition has created SaveOurWifi.org with several petitions, including one for librarians to give examples of what Wi-Fi means for patrons.
Clark discussed the Library E-Rate Assessment and Planning (LEAP) project and the E-Rate Clearinghouse, where users can get and share information.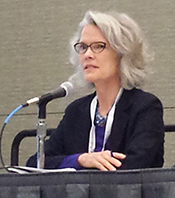 Open eBooks app serves low-income children
Kathryn Matthew, director of the Institute of Museum and Library Services (IMLS), explained the role IMLS played in advising President Obama on harnessing technology to help students learn. IMLS's threefold strategy included high-speed broadband, increasing access to library cards and resources, and the Open eBooks app. The e-reader app makes top-selling books available to low-income kids for free and is the product of a public-private partnership between IMLS, the Digital Public Library of America (DPLA), New York Public Library (NYPL), and FirstBook. Publishers donated a quarter-billion dollars in free books for the app.
Mary Lee Kennedy, chief library officer of NYPL, and Micah May, director of business development, demonstrated the app, which lets teachers, librarians, and day care workers who represent student populations in low-income areas use a special code to access the books through Apple and Android devices.
The main purpose of the app is leisure reading, not curriculum reading. The database of books has been organized and curated by age group by DPLA librarians so that kids using the app will see titles appropriate for their grade level and can be at any book in three clicks or fewer. The large selection allows unlimited, simultaneous multi-use access from publishers, "the Holy Grail of libraries," said May.
The majority of books in the app were donated from publishers to be borrowed, but it also includes public domain books that can be kept forever.
When asked how the app would work if a child doesn't have access to smartphone, May replied, "We would love to solve that problem. This is a content solution, not a device solution. But device adoption is increasing." As tablet and phone donations to schools increase, this product will be available for them.
Legislative wins and losses
Adam Eisgrau, managing director of ALA's Office of Government Relations, discussed several federal issues, including the USA Freedom Act, which improved privacy protection from the Patriot Act. ALA got a specific callout in The Hill for this victory, but Eisgrau stressed that librarians can't rest on these laurels. Senator Ron Wyden (D-Oreg.) recognized ALA's efforts fighting the Cybersecurity Information Sharing Act, but the bill passed anyway. "We can't gild this lily—it's bad," Eisgrau said.
Sheketoff closed the presentation with information on how libraries may be able to participate following passage of the Workforce Innovation and Opportunity Act. ALA is waiting for the Departments of Labor and Education to issue final regulations, but most opportunities will likely be through adult education and literacy programs. Regulations are expected in spring or early summer, and the Washington office is planning to offer a workshop at Annual with specifics, including examples of successful programs in Texas and Florida.
Sheketoff urged attendees to get involved in National Library Legislative Day, May 2-3, 2016, in Washington, D.C.