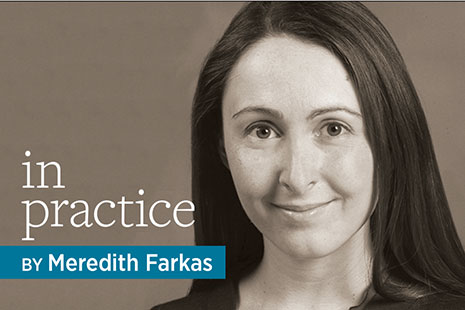 As a longtime instruction librarian, I was pleased when the board of the Association of College and Research Libraries (ACRL) adopted the Framework for Information Literacy for Higher Education. What I appreciated most was that the Framework included not just mechanical information skills that students need to master but dispositions and habits of mind that are critical to the process of information seeking. It wasn't presented as a linear list of skills—a welcome change, since information seeking rarely happens in a straight line. The document better reflected the reality I was working in every day.
In some ways, the Framework was a major departure from ACRL's previous Information Literacy Competency Standards for Higher Education. Organized around six information literacy threshold concepts, the Framework is not an exhaustive list of threshold concepts or dispositions and practices. Instead, its developers encouraged libraries to determine their own programmatic learning outcomes based on local concerns. For some, this was a welcome recognition of the importance of considering context. For others, the lack of a list of criteria was a stumbling block.
Not surprisingly, the Framework has had its share of critics and champions. Notable criticisms include an open letter against it written by librarians in New Jersey, instruction librarian Lane Wilkinson's philosophical deconstruction of it, and librarian Christine Bombaro's essay that asserts it is elitist.
Concerns have been raised that the Framework requires libraries to toss their Standards-based outcomes. I don't believe this to be true. Many libraries are mapping their existing outcomes to the Framework, and others are using each "frame" as a lens through which to look at and redefine their outcomes. In the end, a library's outcomes should best reflect its local context, so if existing outcomes are working well, engagement with the Framework does not require throwing anything away.
Creating a guiding document for information literacy that pleases everyone seems nearly impossible.
Another critique centers on its reliance on learning theories that were not widely embraced by the profession. Some felt that the Framework depends too heavily on threshold concepts and metaliteracy. I may not have based a foundational professional document on the same theories, but I believe that librarians do not need a deep understanding of these theories to learn from and teach with the Framework.
For those looking to engage with the Framework in practical ways, some great opportunities exist. The Minnesota Library Association developed 23 Framework Things, a self-paced learning program. For teaching, Project CORA and the ACRL Framework for Information Literacy Sandbox are full of lessons, activities, and assignments created by instruction librarians and disciplinary faculty and tied to specific frames.
Our profession is as varied as our student populations, and the idea of creating a guiding document for information literacy that pleases everyone seems nearly impossible. Embracing the Framework does not require librarians to scrap everything they've done in their instruction programs. It simply provides new ways of looking at information literacy, what we do as teachers, and what our students do as information seekers.
In the end, as librarian Jacob Berg wrote in his response to the New Jersey librarians' open letter, "It was possible to do an excellent job of teaching information literacy under the old Standards, and that remains the case. It was also possible to do a lousy job.… The same is true of the Framework."
It has enriched my own teaching as I've made incremental changes toward instructional improvement and better facilitating student learning. It is not the Framework but the librarians and our disciplinary faculty partners who determine the quality of instruction our students receive.