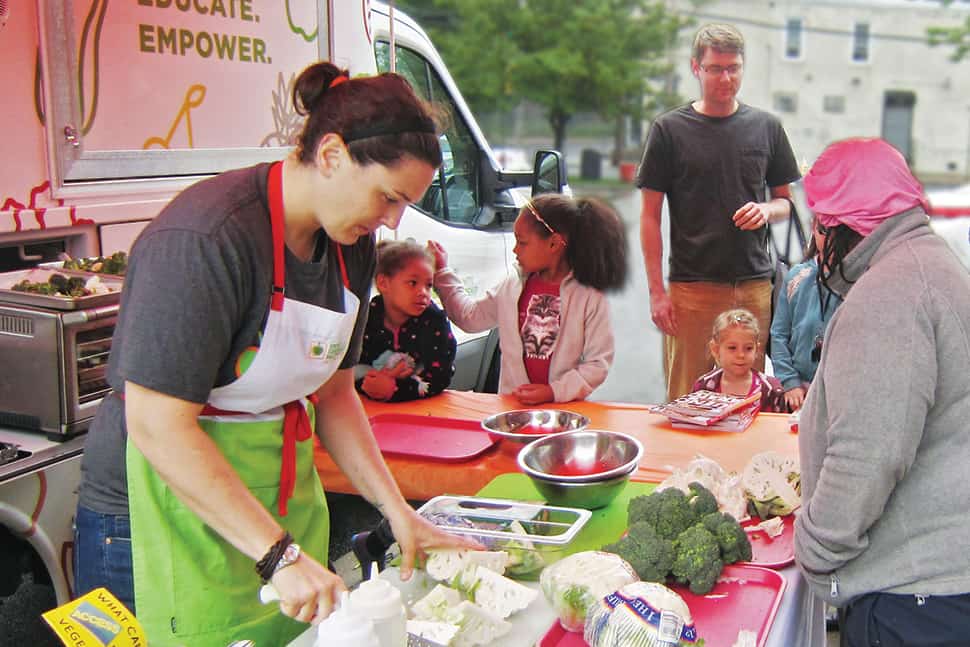 When the Camden County (N.J.) Library System (CCLS) expanded in 2011–2012 from six branches to eight, its newest buildings were opened in the city of Camden—an area that CCLS Director Linda Devlin identifies as a food desert.
"The city of Camden has only one grocery store, and most city residents rely on small stores and bodegas for food," says Devlin. "These stores have a more limited supply of healthy food, which limits meal planning."
Inspired by a visit to the nearby Culinary Literacy Center at the Free Library of Philadelphia, Devlin decided to develop a mobile culinary literacy program for CCLS called Books and Cooks. The program, which began in late 2016, was initially funded through a one-year, $59,000 grant from the New Jersey Department of Labor and Workforce Development's Adult Literacy and Community Library Partnership pilot program.
Books and Cooks' mobile kitchen—a Lakeside Foodservice Creation Station that cost about $9,000—travels to each of the library's eight branches, as well as the Camden County One Stop Career Center and Camden County College. Additionally, Devlin's staffers receive food protection training from the Camden County Environmental Health Division, and programming is supported through partnerships with eight local organizations that supply food, staffing, demonstrations, and education.
"My philosophy is, we find out what challenges a community faces and ask how can we help them," Devlin says.
It's a philosophy shared by many libraries across the country that are increasingly developing mobile food programs to teach food literacy and deliver wholesome meals and snacks to children and adults who might otherwise lack access. These food programs have, in turn, brought libraries and communities together in remarkable and sometimes unexpected ways.
"I teach conversational English, and when it comes to food-related topics, everyone gets involved," says Shyamoli De, who runs Books and Cooks programs and serves as literacy director of the CCLS-based Literacy Volunteers of Camden County. Some of the classes that De leads include teaching healthy eating habits, how to read nutrition labels, and even table manners. She says the program has been especially helpful for community members facing language barriers.
"I'm an immigrant myself," says De. "I think you can embrace American culture while keeping your own culture, and food literacy teaches both." She says that the program has also connected people to other cultures and library patrons.
"The other day, one of my Iraqi students started talking about halva," says De. "Then one of my Indian students started talking about his halva recipe. There's halva in Turkey, and Haiti has something similar…. We have so many recipes that are similar."
Food deserts aren't the only issues facing library communities. Corinne Hill, executive director of Chattanooga (Tenn.) Public Library (CPL), saw a different kind of challenge. "We serve a lot of children that come from lower socioeconomic communities," she says. "We knew they were hungry, especially in the summer when they're not in school. So staff made grilled-cheese sandwiches and realized that the tweens and teens had no idea you had to butter the bread to make it brown."
Kids used to just play videogames, but any time we do our Flavor Lab, every kid is up here and participating.—Meredith Levine, youth services manager at Chattanooga (Tenn.) Public Library
That's when Hill began researching food deserts, healthy diets, and fresh foods. "We found out the food desert is a problem, but not the big problem. The big problem is that people at all socioeconomic levels don't know how to cook, and people don't have time."
Hill was also inspired by the kitchen at the Free Library of Philadelphia. In 2017 she started Flavor Lab, CPL's mobile kitchen, with funding from nearby supermarket Food City, the library's end-of-year funds, and a local Whole Foods' "Giving Back" event.
For $9,000, the library purchased a Charlie Cart, a fully contained mobile kitchen that was created by a successful Kickstarter campaign. The electrically powered cart includes a convection oven, induction cooktop, rinse station, kitchen utensils, and an educational curriculum. Flavor Lab mostly lives in the children's section at CPL's downtown location but is also taken to outdoor markets. Some components—such as the griddle and oven—detach and can be taken to other branches.
"Kids used to just play videogames, but any time we do our Flavor Lab, every kid is up here and participating," says Meredith Levine, youth services manager at CPL.
Levine says that with additional funding, CPL would like to buy a van with a lift to more easily transport the mobile kitchen. "They're renovating a park a block and a half away, and we'll be doing some of these food programs there," she says. Hill adds that she hopes to bring the cart to festivals and other communities.
Redwood City (Calif.) Public Library (RCPL) uses its mobile kitchen to combine food and health literacy in a way that's not only educational but also engaging.
"Sometimes nutrition programs can be heavy-handed," says RCPL Director Derek Wolfgram. "But the library is associated with a fun place to learn."
RCPL started La Cocina de Libros in 2017 with a Library Services and Technology Act grant, in response to a community need for health literacy, particularly in the area of Type I diabetes in children. The kitchen has a bilingual staff that serves RCPL's four branches, while focusing in particular on its downtown and North Fair Oaks locations, which have the highest concentration of low-income residents.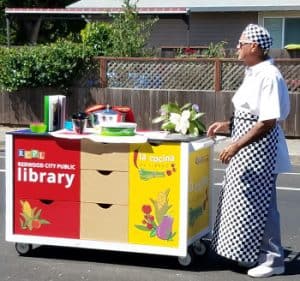 Kitchen operators, who all got food handling certification, work with local chefs, and in particular Steve Cortez, a bilingual chef who has experience working with other city departments.
"Chef Cortez is my best partner here," says Rosalind Kutler, adult services and programming librarian at RCPL. "He teaches cooking skills, does demonstrations at farmers markets, and has the demonstration skills librarians might not have."
Kutler, a former consumer health librarian, says her program has partnered with Second Harvest Food Bank to do outreach, and helped develop a program called Food for Fines, which waives library fines in exchange for donated canned goods.
Though RCLP has been effective in getting La Cocina de Libros in front of its intended audience at local fairs and festivals and through its summer reading program, Kutler says the library has had to scale back its outreach because of the "intensive nature of the programming" and because hauling the kitchen long-distance can be "challenging."
"The great thing I took away from this is the partnerships and working with the community," she says. "And we can't underestimate how much staff learned."
Adds Wolfgram, "Besides the actual intent of the program—meaning delivering food and information—the second benefit is the opportunity for people to think about the library in different ways."