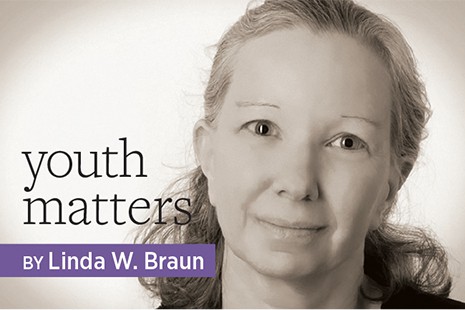 Does your library offer teen-centered services or teen-driven services? And what is the difference between the two?
As Luke Kirkland, teen department head at the Waltham (Mass.) Public Library, describes teen-driven services, they are initiated by youth: "Adults are invited to support teens in executing their ideas. Teens retain power of decision making and agency throughout execution."
It's important that our libraries progress from a teen-centered to a teen-driven model. The latter allows teens to develop the social and emotional competencies highlighted by the Collaborative for Academic, Social, and Emotional Learning: relationship skills, social awareness, self-awareness, self-management, and responsible decision making. Kirkland also observes that youth-led services help teens grow into active adult community stakeholders.
If you have a teen advisory board (TAB) at your library, you might be thinking, we already do this. But in my work with library staffs, I find that most, including those with TABs, are working in a teen-centered rather than a teen-driven environment.
Joanna Harris, teen programs and partnerships coordinator at District of Columbia Public Library, describes the teen-centered model as services created with youth needs and interests in mind. Teens might dictate what services look like through formal response, such as polls and surveys, or verbal feedback. "This can go so far as having teens shaping programming," Harris says, "or having teens choose which resources to explore under the guidance of a library staff mentor." For the most part, however, these services are created and led by staff.
Teens and staff have the opportunity to learn through risk-taking with the goal of improving their work.
In making the move from teen-centered to truly teen-driven, it's useful to review Roger Hart's Ladder of Young People's Participation. At the lower rungs of the ladder—in which young people are manipulated, treated as decoration, or tokenized—youth may have a chance to say what they think but no opportunity to explore or act on their ideas. The rungs in the middle of the ladder focus on projects in which adults decide on the activity and youth have the chance to help out. At these levels, adults take young people's ideas seriously. Many library TABs sit in the middle part of the ladder. It is the upper rungs of the ladder that provide the framework for teen-driven services. At the highest rung, adults help teens actualize services by sharing decision making and working alongside them.
What does it take for libraries to move up the rungs of Hart's Ladder?
Risk. When teens are given the chance to drive programs, not everything will go as planned. Mistakes and failure are a distinct possibility. Josie Watanabe, youth and family services manager at Seattle Public Library, notes, "It takes more time, more uncertainty, and giving up control." Teens and staff have the opportunity to learn through risk-taking with the goal of improving their work.
Relationships. Don't merely ask what teens are interested in. Staffers need to talk with teens about what they find challenging in the world and what problems they would like to solve. Conversations should address the opportunities teens would like to have in making a difference in their community.
Redefining success. "With so much focus on getting their circulation and participation numbers up, library staff have difficulty making the move from teen-centered to teen-driven," says Danielle Margarida, youth services coordinator at the Rhode Island Office of Library and Information Services. Shifting the perception of what success looks like eliminates barriers to implementing teen-driven services.
It's not a small challenge to make this transition, but it's invaluable to give teens a voice and ownership over services. "There are very few spaces for teens to do that," notes Cheryl Eberly, principal librarian and young adult volunteer at Santa Ana (Calif.) Public Library. "A library is the perfect community space for teens to engage in this sort of learning and growth."