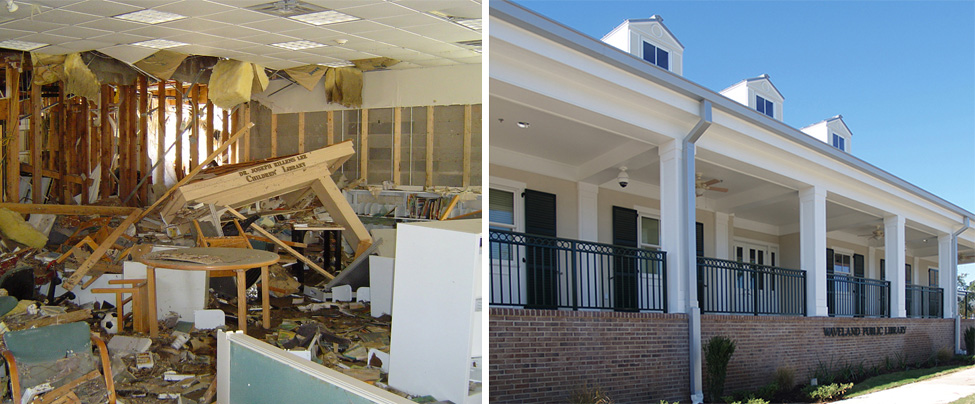 August 29 marks 10 years since Hurricane Katrina made landfall on the Gulf Coast and became the costliest—and one of the deadliest—natural disasters in US history. Over recent weeks, stories have been recounting the damage to structures, institutions, families, and communities; offering tribute to the people lost; and showing how far we've come and how far we have left to go toward recovering local economies and populations, improving government services, and healing.
In this six-part series, American Libraries looks back at the stories of libraries and librarians in the 10 years since Katrina. Reflecting on our October 2005 coverage, we remember the librarians who provided services in extraordinary circumstances. We recall the libraries that recovered because of the generosity of others. While Katrina can be a difficult topic for those who lived through it, we thank all the librarians who spoke with AL for this retrospective.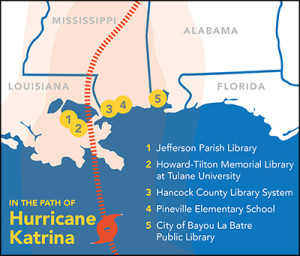 Today, August 25, we share stories from Jefferson Parish (La.) Library and Louisiana State Librarian Rebecca Hamilton.
On Wednesday, August 26, we will share stories from Pineville Elementary School in Pass Christian, Mississippi, and Hancock County (Miss.) Library System.
On Thursday, August 27, we will share stories from City of Bayou La Batre Public Library in Irvington, Alabama, and Howard-Tilton Memorial Library at Tulane University in New Orleans.
These are just some of the Katrina stories we've heard from libraries and librarians. We invite you to share your Katrina story with American Libraries via comment or email and let us know how your library—or your life—has changed in the 10 years since Katrina came ashore.