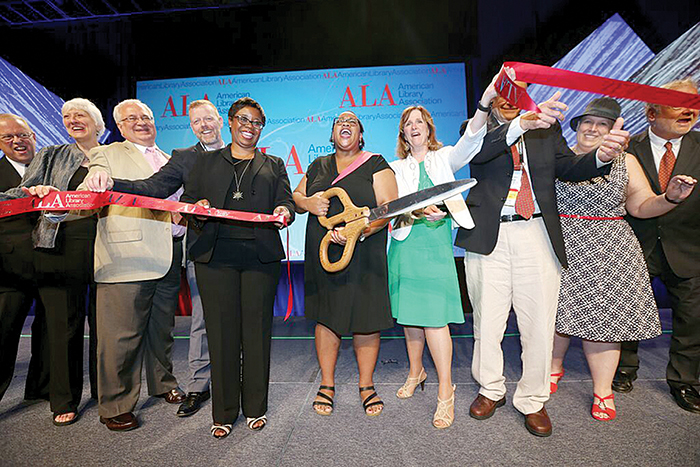 Given that the 2015 ALA Annual Conference and Exhibition, held June 25–30 in San Francisco, coincided with the San Francisco Pride celebration and parade, it's hardly surprising that matters of inclusiveness and diversity emerged as major themes of the conference. The national news only sharpened this focus, as the US Supreme Court's Obergefell v. Hodges ruling that legalized same-sex marriage throughout the country was announced just hours before the conference began Friday.
In the wake of this news, attorney Roberta Kaplan keynoted the Opening General Session. Kaplan successfully argued United States v. Windsor, the 2013 case that ruled part of the Defense of Marriage Act unconstitutional. She referred to Windsor as the "big kick in the butt" that moved the Supreme Court forward on a series of decisions that have fundamentally recognized the equality of gay people in our society.
Kaplan noted that librarians were at the forefront of many civil rights issues, particularly regarding censorship during the era when many gay men and lesbians had to live their lives in the closet. "Librarians were incredibly important in making sure information got out to people who were living lives that are almost unimaginable today," she said.
In her speech, she also detailed her decision to take on Edie Windsor's case: Thea Spyer, Windsor's partner of 44 years, was the therapist Kaplan saw during her coming out process. Spyer's death, and the $363,000 tax bill resulting from Windsor's lack of inheritance rights, prompted the case.
While #WeNeedDiverseBooks emerged as a major theme of this year's Midwinter Meeting, the "Diverse Books Need Us" program showed that those books need librarian support to thrive. Author Mike Jung cofounded We Need Diverse Books in response to BookCon's lineup of BookExpo America authors that lacked any people of color. "We're working toward the long haul," he said, noting that the industry needs diversity not only in books, but also in its authors, book characters, agents, marketing staff, editors, and readers.
Panelist CM! Winters-Palacio, chair of the library department at Malcolm X College in Chicago, recommended that one step all librarians take to support diverse books is learn how the acquisition process works, especially in school libraries. When there are programs based around diverse books, libraries need to buy multiple copies of those books so they are available to hand out to patrons.
The "Girls Like Fart Jokes and Boys Have Feelings" session examined how the gender divide in children's and young adult books—where "girl books" have romance while "boy books" have action—emerged and how librarians can counter it.
"Boy books and girl books are marketing constructs," said panelist Jordan Brown, a children's book editor with HarperCollins. "They can be useful in a lot of ways, but they are problematic when there are greater issues in the culture around gender. Then 'great book for boys' becomes 'great book only for boys.'"
Author Hannah Gomez recommended that librarians "teach people how to close-read" and learn to talk about the many subjects of a book other than just what is depicted on the cover.
Panelists also pointed to Maureen Johnson's Coverflip project, which challenged traditional gender-based marketing tropes by reimagining book covers with the author's gender switched—George R. R. Martin's A Game of Thrones got a swirly castle-and-princess cover when "written" by Georgette R. Martin, for example.
The GraphiCon 2015 mini-conference—sponsored by ALA's Graphic Novels and Comics in Libraries Member Initiative Group—started with a forum that explored diversity in comics, particularly related to gender and LGBTQ representation. During the #WeNeedDiverseComics panel, Princeless creator Jeremy Whitley said, "There are a lot of white guys in the Marvel universe; DC too. I'm drawn to telling stories I want to see and don't see, and things that I want my daughter to see."
During GraphiCon's "His, Hers, and Theirs: Gender and Comics" panel, Babymouse cocreator Jennifer L. Holm observed that librarians and others currently have a unique opportunity. "[Diversity] is at the forefront of the media right now," she said. "It's up to librarians, teachers, and [authors] to continue the change."
At the Closing General Session, Robbie Robertson (rock 'n roll Hall of Famer and leader of The Band) and Caldecott Honor–winning illustrator David Shannon discussed their collaboration on Hiawatha and the Peacemaker (Abrams, 2015), a new children's book illustrated by Shannon's oil paintings and accompanied by a CD of original music by Robertson.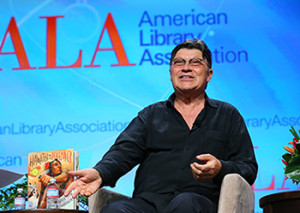 Robertson, who is of Mohawk and Cayuga descent, said he heard the story of Hiawatha and his spiritual guide, the Peacemaker, when he was 9 years old on the Six Nations Indian Reserve in Ontario, Canada. Hiawatha, a Mohawk, was chosen to translate the Peacemaker's message of unity for the five warring Iroquois nations during the 14th century. This message helped unite the tribes and changed how the Iroquois governed themselves—and became a model for democracy, later inspiring the authors of the US Constitution.
Robertson and Shannon pointed out that their story of Hiawatha bears little resemblance to Henry Wadsworth Longfellow's famous but historically inaccurate poem, The Song of Hiawatha. When new ALA President Sari Feldman, who hosted the discussion, asked how librarians could balance cultural sensitivity and accuracy without limiting access to historical literature, Robertson said he believes it's possible to still appreciate Longfellow the storyteller.
Shannon agreed: "There's truth in fiction and there's truth in history, and they don't always coincide. Learning where you're wrong is as important as learning where you're right."
New campaign focuses on transformation
ALA's multiyear focus on transformation took another step at Annual. At the Inaugural Brunch, Feldman introduced Libraries Transform, a new public awareness campaign to elevate the ways libraries support individual opportunity and community progress.
The campaign's goals are:
to increase support for libraries by showing the transformative nature of today's libraries
to elevate awareness of the critical role that libraries and library professionals play in the digital age
to update the image of libraries and library professionals
to attract the best and the brightest from all walks of life to grow and expand the profession
and to influence key decision makers at the national, state, and local levels to generate support for library funding and information policy positions
The new Libraries Transform website, librariestransform.org, includes a video for public awareness and a toolkit for libraries, with downloadable web banners, posters, and postcards.
Conversation Starter sessions throughout the weekend addressed a variety of emerging opportunities for libraries in lecture, panel, or discussion format. For example, in "From Maker to Make-HER," Nancy Andrus described how Sunnyvale (Calif.) Library's Make-HER program works to attract girls to STEM programming. Make-HER workshops are open to girls 8–12, Andrus said, because "that's the time girls start to lose interest and confidence in STEM."
Individual workshops are led by women (dubbed "#LadyMakers") who Andrus recruited from local museum and education programs. The girls who participate in the workshops are accompanied by their mothers or other adult women who can understand and support the girls' maker efforts outside of the library. The program's blog, sunnyvalemakeher.wordpress.com, provides profiles, resources, and try-at-home projects for people who can't attend the workshops.
Your profession is the greatest profession. You democratize knowledge. Nothing on earth is more important.—Gloria Steinem
Another Conversation Starter titled "The Library–Museum Connection" discussed how libraries and museums can become part of the artistic process. Presenter Erinn Batykefer, program coordinator at New Canaan (Conn.) Library, helped create the Library as Incubator Project to facilitate collaboration between libraries and artists while she was an LIS student at the University of Wisconsin–Madison. One of the project's early successes was Bookless, a 2012 event at Madison Public Library in which the library invited more than 100 artists to create an interactive show in its Central Public Library building—which was then empty in preparation for remodeling.
That program has inspired many others. Rebecca Hopman, outreach librarian at the Corning (N.Y.) Museum of Glass, detailed how through the museum's artist-in-residency program, "Artists come to the museum, get inspired, make something, and we document it and add it to our collection."
Celebrity speakers inspire and entertain
In the Auditorium Speaker Series, a host of authors, thinkers, and entertainers offered their unique perspectives to eager attendees.
Sonia Manzano delighted the crowd with a reel of highlights from her nearly 45 years portraying Maria on Sesame Street. Sighs of nostalgic recognition and bursts of laughter accompanied the three-minute video, followed by sadness when she announced she was retiring from the show. Growing up poor in the Bronx in a household torn by alcoholism and violence, Manzano said little in her early life would have predicted a career in the arts (let alone 15 Emmy awards for writing). She said she succeeded because of her childhood, not in spite of it. "You can make something out of any life," she said. Her childhood experiences informed not only the character of Maria but also her writing for other characters. Manzano said she feels responsible to a little girl in a disruptive household who may find comfort in the show.
Manzano lamented that children are now often assessed and tested before they are able to discover the joy of using their imagination and thinking for themselves. "The last place to imagine is in the books that librarians give them," she said. "Reading books is the only time right answers are not required."
Ms. magazine cofounder Gloria Steinem argued that libraries fill the need for a physical community meeting place that fosters connections between people. "Pressing 'send' is not organizing," she noted. She also emphasized the importance of librarians in protecting unpopular opinions and history that can't be found elsewhere. "Your profession is the greatest profession," she said. "You democratize knowledge. Nothing on earth is more important."
At ALA President Courtney L. Young's President's Program, Harvard professor Sarah Lewis discussed the upside of failure. For her debut book The Rise: Creativity, the Gift of Failure, and the Search for Mastery, she researched 150 historical and contemporary figures. In each case, she said, "They weren't aiming for success but a kind of mastery. I saw that the ability to sustain that mastery came from being willing to be, at times, a deliberate amateur."
Libraries can provide a private domain where individuals can process, strengthen, and grow, she added. "[Librarians] uphold that timeless part of the creative process, the timeless part of personal transformation."
Acclaimed author Edwidge Danticat called librarians "wonderful angels of the book." She grew up in Haiti under Jean-Claude Duvalier's dictatorship, where certain books were forbidden. Her first encounter with a public library was in Brooklyn after moving to the United States at age 12. She spoke no English, but the library had a small section of books in French, where she checked out the limit of 10 books and told her father, "I can't believe they're going to let me take these books home!" Her photo now hangs in that library.
As a writer, Danticat said she tries "to tell very hard truths in plain ways." She read from her new picture book, Mama's Nightingale, about a young girl who sees her undocumented mother detained and then deported. She said she hopes the book stresses the realities of the immigrant experience, which can include triumph, hope, trauma, despair, opportunity, and sacrifice.
Essayist and historian Sarah Vowell and actor Nick Offerman are longtime friends, so while they were scheduled at separate Auditorium Speaker Series sessions, they wound up moderating each other's talks. Both have new books that examine individuals who have helped shape America. Vowell's Lafayette in the Somewhat United States follows her travels through the United States researching French aristocrat turned US Revolutionary War general, the Marquis de Lafayette. Offerman's Gumption details 21 historic and modern figures—from George Washington to Yoko Ono—who have inspired him.
Also an inspiration to Offerman (unlike Ron Swanson, his library-loathing Parks and Recreation character) are the librarians in his life. His aunt is a librarian and his sister is director of Three Rivers Public Library District in Channahon, Illinois. "I adore librarians because you're the curators," he said. "You're better than a really good weed dealer; better than a good weed farmer. You're the best of dispensaries."
More service ideas
The Affordable Care Act defines health literacy as the ability to obtain, communicate, process, and understand basic health information and services to make appropriate health decisions. Nearly 90 million adults in the US have basic or below basic levels of health literacy—which increases health care costs by up to $236 billion per year due to increased but preventable use of emergency rooms, longer hospitalizations, and other issues. Panelists at "Public Health and Public Libraries: Librarians as Health Literacy First Responders" argued that librarians are well positioned to help address this lack of literacy.
"It is incumbent on libraries to promote reliable resources," said Anita Kinney, data analyst at Prince George's County (Md.) Memorial Library System. For example, the recent resurgence of measles is correlated to poor health literacy: Studies show that up to a third of parents still believe vaccines cause autism. But there have been successes as well: The "Back to Sleep" education campaign to combat SIDS, for example, helped reduce infant death rates by 50%.
Maureen Hartmann, division manager for strategic services at Hennepin County (Minn.) Library, argued that libraries may need to cull services in order to provide more vital ones, in the Young Adult Library Services Association (YALSA) session "What I Stopped Doing: Improving Services by Giving Things Up." Teen services and demographics are changing across the country, as detailed in YALSA's The Future of Library Services for and with Teens.
"I can't tell you exactly what you need to give up and what you need to do to implement this report in your library," Hartmann explained, "because it's so different for each community, for the kind of library you work with, for what your staffing looks like, and what position you're in." But the report does put into context that librarians may need to make tough choices in order to try something new.
Michelle Frisque, chief of technology, content, and innovation at Chicago Public Library (CPL), and Luke Swarthout, director of adult education services at New York Public Library (NYPL), discussed their libraries' experiments with lending Wi-Fi hotspots to users in high-need communities, in their Library and Information Technology Association session "A Tale of Two Cities: NYPL and CPL Wi-Fi Lending Projects." Swarthout said that NYPL's pilot program helped some of the 27% of New Yorkers with no home internet access overcome barriers to home access. "Libraries expose patrons to online resources that show the value of internet access," he said, as well as "provide training and support that patrons can access to utilize internet resources."
Via Skype, journalist Glenn Greenwald spoke about the reverberations of his work bringing National Security Agency whistleblower Edward Snowden into the public sphere. "Librarians, since the 9/11 attack, have been the most unyielding and vicious defenders of liberties," he said. "I've watched with admiration and gratitude how steadfast your group has been."
Greenwald added that he wishes that more Americans were as concerned about privacy issues as librarians. Many people are tolerant of mass surveillance because they think they have nothing to hide. Greenwald thinks such complacency is dangerous, noting that we all use security measures like passwords, locks, or fences every day.
Total attendance was 22,696, including 15,883 attendees and 6,813 exhibitor staff. Last year's conference in Las Vegas attracted a total of 19,889 attendees, while 23,545 attended the 2013 conference in Chicago.
Read more conference coverage at americanlibrariesmagazine.org/tag/alaac15.